Helping a Homeowner After Storm Damage: Getting a New Roof Installed
A customer with hail damage from a storm found CSI Roofers on Facebook and after reading some reviews, reached out to Travis Mulder on our sales team for emergency service and inspection.
The home had water leaking into the dining area from a recent hail storm that damaged the shingles, ridge, and sheathing. Travis met the homeowner, Daniel within the hour. We then performed full inspection.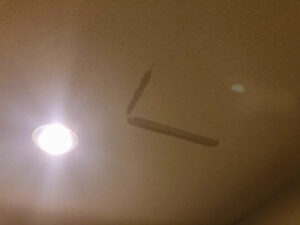 Evaluating the Storm Damage
Upon initial inspection of the roof, wind and hail damage was evident along with missing shingles. Travis advised the customer about the damages and provided information to help so they could request an adjuster to asset damages.
Before leaving the home, we provided emergency/temporary leak repairs so the family wouldn't have a leaking roof or further damage to their ceiling.
We interviewed the homeowner and this is what he told us (in his own words):
So the job went excellent, I had my reservations when dealing with insurance and a contractor, but I have been very impressed.
Travis came over later in the evening when I found I had a leak, got up on the roof and covered the leaking area with a trap.
Within 4 days we had a check in hand and Travis had a crew on the roof a few days later. His crew did a great job and finished our roof in about 9 hours and did a nice job of cleaning everything up.
Overall, I am very impressed with CSI, Travis and their crews on taking care of our home and I have been recommended CSI to anyone who needs any home repairs done.
Call CSI Roofers at: (817) 503-2177 for a free roof inspection today or Contact Us online